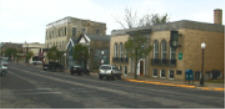 A Brief History & Guide
Boscobel is French for "Beautiful Woods."
Nestled in the Wisconsin River Valley below the soaring bluffs to the north, Boscobel was once a lumber town. A land of pastoral beauty: dairy, cattle, and horse farms, and well-known as a hunting and fishing paradise, today Boscobel is rapidly becoming a vibrant art community recapturing a spirit that took root back in the late 1960s.
Boscobel is a town that reflects both the past and the present.
+ It is home to The Central House/Boscobel Hotel where John F. Kennedy stopped to freshen up while a presidential hopeful. His wife Jackie met him there and John Jr was born about 9 months later.
+ Boscobel, WI is the birthplace of the Gideon Bible.
+ One of the last remaining GAR houses is located in Boscobel.
+ Take a self-guided walking tour of downtown to see classic vintage architecture mixed with a bit of the new both in commercial buildings and private homes.
+ A curiously interesting local history Museum is located in The Depot downtown.
+ Enjoy a fantastic fourth-of-July fireworks display!
+ Rent or bring a canoe and enjoy the glorious natural beauty of the Wisconsin River.
+ Check out the art at The Boscobel Library where the Book Discussion Group and the Poetry Writers meet.
+ Muskets & Memories, a well-attended Civil War reenactment, takes place here every August.
+ Art by the Stream, a fine art festival, runs every Father's Day weekend.
+ Most of all, enjoy a relaxing, delightful weekend on the edge of the unique Driftless Region of Wisconsin.
website by melinda edison